Dani played another sit 'n' go. They went from 9 people per table to 10 since the last time we were there, even though the prize pool didn't increase.
But anyway, she played better than ever this time, and was dominating the table for much of the game. Toward the end, this guy that looked like he was about 18 started knocking everyone out and took the lead. He got pocket kings four times. He ended up winning, but Dani came in second and took the $350 prize.
So far, her first three games have gone like this:
1: Second place. $350
2: Fourth place. One away from finishing in the money (even though she had terrible cards the whole game)
3: Second place. $350
So she's netted $280 in her first three games, and she gets better all the time. She's learned a ton in the last 6 months (since her second game) and she's not getting as nervous as she did before, nor is she getting bullied. I really think as she gets a little more experience and continues to improve, she could finish in the money most of the time and probably win a pretty good percentage of the time. If she can build up enough money to start playing the $250, $500 and $1000 games, she could start making some pretty serious money (first prize in $1000 game = 5 grand).
We're a little short on cash for her to be playing regularly right now, but if things go well, she might be able to start playing a few times a month before too long.
Yesterday, we went to the Hard Rock again because we were bored and the race track - which features double the rednecks at one third of the price - was closed.
Current Mood:

good

Current Music:

Blink 182 - Easy Target


It started off kind of shaky. We were both in a cranky mood, and kind of bothering each other for the first half of the day (We're married. It happens). However, we had reservations for a nice french restaurant that evening, which got us back on track.

The place is called La Vie en Rose Cafe in Pompano Beach. I worked at the Blockbuster across the street for a few months, but I never thought of going there. When we got there (majorly overdressed), they led us to our own little semi-enclosed room near the back, which was a nice surprise. We had our own little table, decorations etc. Dani looked amazing, as always. A guitarist played some great live music near the front of the restaurant. There was a nice tapenade on the table when we got there. We decided to order the "lovers' special", which included two 4-course meals and a bottle of wine. I ordered the Lorikeet Brut champagne from Australia, because we're both bird lovers and we always like to visit Lorikeet enclosures at zoos, etc. That, and I felt like champagne.

I had the onion soup, which was by far the best I've ever had. Dani got a salmon dish and I had scallops in a light cream sauce with a flaky clamshell-shaped pastry on top. It was one of the best meals I've had in years. The music, along with the rustic, old-fashioned decorations, reminded me of Christmas for some reason. I ended up drinking almost all of the champagne because Dani's interstitial cystitis gives her major trouble if she drinks much alcohol. Dani and I talked about the past year, as well as some of our current goings on. After some great chocolate mousse cake, we drove home in the rain.

We ate some of the top of our wedding cake, which my mom packed and shipped down here this week. It was only slightly screwed up :P and I had a couple martinis using the Tito's vodka we got a couple days ago. Between that and the champagne, I was thoroughly intoxicated (which is why I'm writing this a couple days later). I went to sleep and went to work the next day feeling like crap.

Anyway, it was a great night, and a great year. More to come.
Today, it's been one year since me and the lady tied the knot. It's been a great year, full of moving and working and eating and going to movies, and I totally look forward to many more.
Current Location:

Home

Current Mood:

happy

Current Music:

Vedera - The Falling Kind
We woke up at 5:00 Sunday morning and headed for the Fort Lauderdale airport. It was my first time leaving the continental U.S. so that was sort of exciting. We headed for San Juan, Puerto Rico first before boarding a propeller-driven puddle-jumper (my first time on one of those, too). It was a short flight to St. Thomas, where we met up with my folks and took a taxi to the ferry. They took us to the ferry a lot farther away and charged us quite a bit more than what they originally said. My dad initially refused to pay the extra money, until the driver started to call the police. Apparently this is a common practice down there.
After the ferry to St. John, we picked up our SUV rental from a guy named Conrad Sutton, who had paintings on his wall fashioned out of different shades of deer fur. Everyone there drives a Jeep or an SUV because the roads go up and down and around and left and right and whatever else you can think of, with cliffs and curves and inclines that seem to approach ninety degrees. After an hour, we reached the Concordia Estates, a collection of "eco-tents" which are basically small cabin frames with canvas over them instead of wood. They're solar powered, with "composting toilets" and a shower supplied by a large iron tank that sits in a window, getting hotter as the day goes on. Dani and I had two mattresses on a platform about eight feet off the ground, with a ladder that reminded me of a bunk bed. It took a considerable amount of work getting to our tent because the whole camp was built on the side of a steep hill, with a maze of stairways and raised wooden walkways that reminded me of the Ewok village in Return of the Jedi. The only particularly good feature of the place was the view. Our balcony overlooked a great, green peninsula with two large hills in the distance. To the east, waves crashed against a rocky beach opposite the calm, clear-blue waters of the cove to the west. We spent a good portion of our time on the balcony, reading or admiring the view. It was even better at night. The stars looked like they were 100 feet away, which blew Dani away (you don't see a lot of stars in South Florida), leading to discussions about astronauts and an ever-increasing fascination with black holes.
(
Pictures of the trip
Collapse
)
Most of the "natives" on the island were pretty rude, and made it clear they wanted you to fork over your money and get out. Everything was extremely overpriced on the island, costing about 3-4 times what it does here. Most of the restaurants charged anywhere from $15-45 per entrée for pretty mediocre food. The only thing cheap was rum. We drank pina colladas and "painkillers", daiquiris and rum punch, followed by rum and Coke and the occasional beer. The drinking age is 18, so Dani got her first legal drinks. The best meal we ate was at a "fancy" (there were still bugs flying around and toilets that hardly worked) French place, the Chateau Bordeaux. We arrived wearing T-shirts and shorts because we had tried to go somewhere else, but it turned out to be closed. Everyone else was wearing nice clothes, and the staff was hesitant to let us in. The food was good; for the price, it had better be. When we were getting ready to pay, we heard the waiter call the police and say that one of the tables couldn't or wouldn't pay for their meal. There were only two other parties, and it seemed like he was talking about us, but I guess we'll never be sure. The credit card went through and we left. The other memorable place we ate had a lot of goats running around, one of which was standing on its hind legs reaching for leaves in the trees, and later jumped halfway onto our table trying to reach the Sweet 'n Low in the middle.
We saw a lot of goats running around wild, some chickens, burros (wild gray donkeys) and hundreds of hermit crabs. I also saw a mongoose or two, later finding out that almost the entire population of snakes on the island had been wiped out since the mongoose was introduced. I also saw a lot of fish and sea urchins, mostly while snorkeling at Trunk Bay and in the cove to the west of our balcony. I couldn't wear my glasses, which meant I couldn't see everything too well, but it was still fun. There was a huge school of tiny fish at Trunk Bay that grouped together in the shape of a 3-4 foot-wide ribbon that seemed to go on forever. The ribbon would curve once in a while, but they always kept a perfect formation. I scraped my knee on what might have been "Fire Coral", which made my skin sting and tingle for the rest of the day. Despite that, it felt good to get in the water and go swimming. I don't do it very often.
On Wednesday, we drove back to Cruz Bay on the north side of the island and prepared to catch the ferry. Dani got an anklet for her mom from one of the many street vendors. We said goodbye to my family and boarded the ferry, headed for the airport. Back in San Juan, we got a bottle of Captain Morgan and some other rum I've never heard of for $8 each at the duty free shop. Then we came home, back to plumbing and electricity that works, toilets that don't come with warning signs ("
#1
rule of the sun...we do NOT flush for
#1
!"), and streets that don't make you feel like you've been riding a roller coaster for an hour and a half. It was a good time, and it was definitely worth going, but I'm glad to be back. When you get down to it, I guess that's what vacation's all about.
The lady and I went to the Virgin Islands over the weekend. St. John, mostly. My parents were going, and we don't see them much, being 1,500 miles away and all, so we mostly went to see them. Luckily, they helped us out with the $850 plane tickets.
Current Location:

Fort Lauderdale

Current Mood:

anxious

Current Music:

Stephen Lynch - Why Mommy Left Us
1. In 2003, we started watching the Florida Marlins after they fell behind in a playoff series with the Cubs. They were about to lose the game that would have put them away for good, but as soon as she became interested, a famous play involving a Cubs fan catching a foul ball that would have been an out led to an eight-run inning for the Marlins, and eventually to defeating the mighty Yankees in the World Series (we went to game five at Dolphin Stadium; Marlins won).
2. Dani decided to start rooting for the Red Sox in 2004 after they fell behind three games to none in the AL Championship series against the Yanks, and told me that they were going to win the next four games and advance to the World Series, something no team had ever accomplished before. They proceeded to win eight games in a row, breaking "the curse" and becoming world champions for the first time in the good part of a century.
3. A week ago, after the Miami Heat dropped the first two games in Dallas, looking lifeless, Dani decided to bless them with her support. A few minutes ago, they became only the third team in history to win the NBA Finals after losing the first two games. Like the others before them, the Heat played like a different team when she was watching. Maybe it was just because these teams were backed into a corner and responded well, but I am noticing a trend...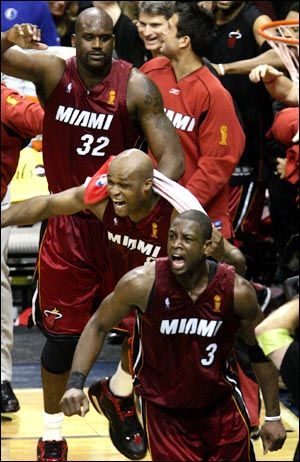 I don't know what it is, but I'm thinking of starting a bidding war between George Steinbrenner and Mark Cuban: "She'll root for your team all season for $1 million. You might go undefeated!"
Dani has some kind of strange power over sports teams in the playoffs. I don't know why, but check it out:
Current Mood:

excited

Current Music:

Paul Castronovo - 50 Ways to Beat The Mavericks
A few weeks ago, we almost got kicked out of our apartment for trying to protect the muscovy ducks that live outside. The managers hired a company to come out and round them up, take them away and gas them. We chased some of them in the water, which pissed a lot of people off, but they're not trying to get rid of the ducks anymore. It turned out there were some issues with our lease, so that almost got ugly. These ducks are really cool and entertaining. They eat all kinds of mosquitoes and bugs which would otheriwise be taking over our complex (this being South Florida and all), and they spend most of their time walking around wagging their tails. A lot of people down here consider them pests and treat them pretty much like cockroaches. But anyway, I guess that turned out as well as could be expected.
(
Some of our ducks
Collapse
)
The one on the bottom is our favorite duck. His name is Big Daddy. He was the leader of the flock before they came and took most of his friends. Now he just walks around with a look on his face like "Fuck this shit".
I'm still waiting on FAU to give me my permanent job so I can get benefits and a raise.
We're going to St. John in the U.S. Virgin Islands in a week and a half. So that should be cool. I'll have to take some pictures.
Today we went to this charity thing at the Hard Rock where we ate lunch and met some local celebrities who were waiting tables for the event. We met Paul, Young Ron and Jenners from my favorite South Florida radio show. They were all very cool and nice. Our celebrity waiter was some chick from the "Deco Drive" show in Miami, but we hardly saw her the whole time, so we mostly just had a regular waiter. It was a nice couple hours off work, anyway. The tip went to a breast cancer foundation, so we left a 100% tip.
Current Mood:

busy

Current Music:

Red Hot Chili Peppers - "She's Only 18"




+ I'm waiting for my birthday present (Garmin GPS Navigator for my car) to come in a day or two = ultra-awesome.
Today was my birthday + we ate some good food and saw a good live band + we went to the casino and put down $140 on Dani's first real game of Texas hold 'em + she came in second and won $350 = awesome.
Current Mood:

excited

Current Music:

Andrew Bird - Measuring Cups
A week after we got here, Katrina hit. It was only a tropical storm at that point, but it still knocked down trees in our apartment complex. In October, Wilma was headed for us just about the time Kathi had a job interview up in Tallahassee. Everyone said Wilma wouldn't be a big deal, but I had a bad feeling about it (because every time a storm hit the gulf around that time, it went frickin' nuts) so we ended up going with her. We went to the state capitol building and to Wakullah Springs, which was pretty cool. I also went on a film shoot with Justin who I knew from my film club back at Northwest MO State. He's majoring in film at FSU now and I got to hang out on the set for a few hours, which was very cool. Wilma hit and pretty well fucked up about half the state, so we decided to stay an extra day, and then decided to stay a few more days in Orlando. We went to Sea World and I had a dolphin jump onto this ledge next to me at the dolphin cove and let me pet it for a while, which was cool. Eventually, we headed home to Ft. Lauderdale. We got back at night. There were no lights, no traffic lights, debris and trees in the middle of the road. It took about a week after Wilma hit before our water was safe to drink, and about a week and a half to get our power back. For some people, it took a month to get power. It seems like about half the trees in South Florida either got torn down or at least ripped up pretty bad and stripped of a lot of their branches. A lot of trees that were 50-100 years old, and had obviously seen a lot of hurricanes, were torn down. Still, it obviously could have been worse.
(
Pictures of the trip and stuff
Collapse
)
Anyway, back to the beginning. After that crappy job with the cars, Kathi hooked me up with a job at Florida Atlantic University with their
executive accounting program
. Dani's dad is the executive director of the pogram, and Kathi is a program coordinator. My official title is IT assistant. I pretty much help people whose email is screwing up and stuff like that. I also wake up at 5 AM on Saturdays so that I can be there by 6 AM to set up video cameras and computers to record the lectures for the program. That part kind of sucks, but they pay me a lot more than I'm worth, and I'm starting to get to do some pretty cool creative stuff. I'm working on updating their websites, getting ready to do some marketing videos, etc. I'm hoping they'll make me full time pretty soon, and I'll get insurance and all that good stuff.
Dani's been working at Chilis doing to-go pretty much since we got here. The tips aren't great, but she likes it there. She also became a Hooters girl a few months ago. She makes anywhere from $50 on a slow daytime shift to $200 on a good night. Most of the girls that work there are pretty nice, and she's becoming friends with some of them. We've both been trying to go to school, but we missed registration for this semester, so hopefully we can get going next time.
Besides that, we went back and visited the family before Christmas. That was pretty cool. We saw Kyle and Dave and I got to drink a lot of Boulevard Wheat beer because they don't sell any good wheat beer down here and that's my favorite. We got back on Christmas Eve. I call my parents every Sunday. I also talk to Kyle about once a week. Hopefully he'll find a good job soon. He's a good friend and he deserves it.
I guess that's about all for now. I'll post again in another four months or so.
So I worked at this crappy job for a couple weeks after we got here where I ran around in the ninety degree sun all day taking pictures of cars, and they gave me shitty equipment that didn't work, and I ended up quitting. We were living with Dani's mom Kathi and her husband Newton who's Brazilian and acts/sounds quite a bit like a two-year-old. He ended up moving out around October and it doesn't look like they're going to get back together, which is probably good for everybody involved.
Current Mood:

forlorn

Current Music:

Sean Paul - Heb de lady gon baw wid us


It was about 5:30 before we hit the road, so I really just wanted to make it to St. Louis for the night. We had a tarp over the roof rack which kept flapping around and making tons of noise. I spent about an hour messing with it every time we stopped until I finally just ripped it off. We passed through St. Louis and decided to head to Mt. Vernon, IL. We stayed at Comfort Inn. It was crappy.

The next day we hit the road and came upon a sign proclaiming something along the lines of "Metropolis, IL. Home of Superman! Come see our giant Superman statue!" We were kind of bored, so we got off the highway. It turned out to be about 30 minutes away from the highway. On the way, we passed a supermarket with a giant statue of a guy carrying groceries (about 25 ft. tall). Wow, we thought. This Superman statue must be huge if the grocery store has one that big. We finally came to the statue. It was about as tall as me, and carved out of wood. We drove half an hour back to the highway, thinking about what a pussy Superman was next to the grocery store guy. We found a White Castle in Tennessee and had lunch. It was right off the highway, but would have been well worth the half hour drive to see the pussy Superman. Why McDonalds is allowed to flourish while White Castle fades into obscurity is a puzzle that will baffle historians for decades to come. BTW, I forgot to mention it was raining basically the whole time we'd been driving, both days. That night, on our way to Chattanooga, we drove through the Smoky Mountains in the dark and in heavy rain, full of twists and turns and slopes. We reached our hotel, the Staybridge Suites, which was very nice. It had seperate living room/bedroom/bathroom/kitchen complete with dishes/stove/dishwasher, etc. They had an office where you could use the internet and print as many pages as you want for free. They had DVDs you could borrow for free to use in the DVD player in your room. I watched Sin City again, which I had bought at Walmart earlier.

The next day, we went to the Tennessee Aquarium, which was very cool. It had the largest fresh-water tank in the world, along with a bunch of sharks (I got to touch a couple) and weird dragon-looking things and a huge eel that probably could have eaten anything in the building, including the 8-foot sharks. We headed into Georgia afterward for the longest part of our trip. It was basically a few hundred miles of gas stations and hot weather. We saw a brochure for the "towing and tow-truck hall of fame" but decided not to mess with it. We ate at Denny's in Jacksonville, FL, which gave us the sense that Fred Durst was probably the best thing they had going for them. We got to St. Augustine, FL that night (oldest city in the U.S.) and headed for the Hilton, where we had reservations. We pulled in and saw there was an $18 mandatory valet service. The building was brand new, but made to look very old. It was very nice, but not very inviting. Later, we found out they charged by the minute to use their internet and continental breakfast was $15 a person. Skimming through their room service menu, we found out a bottle of Skyy vodka was $110. Basically, the place was no nicer than the hotel the night before, but they charged you out the ass for everything you did.

The next day, we took a walk around downtown St. Augustine, which was really pretty amazing. It seemed like every other house was a 200-year-old castle. We ate breakfast and headed to one castle that had been turned into a Ripley's Believe It Or Not and saw a bunch of shrunken heads and cool crap like that. Then we headed south toward Fort Lauderdale, where our story ends, and our hero went to work for 12 fucking hours in the hot sun the next day. But that's another story, for another time. And so I bid thee farewell.

...Fucking sun.
So we didn't really start packing until the night before we left. We stayed up until 7 in the morning lugging half our shit out to the dumpster. We still had twice as much left over as would fit in the car. We woke up at noon and finished loading what we could. After lunch at La Fuente, mom got us a roof rack which made the roof of my car look like it was about to collapse when we put our suitcases on it (it's ok now, though). We deposited our wedding gifts, got the water drained out of my car alarm, and we were off.
Current Mood:

exhausted

Current Music:

Outkast - So Fresh, So Clean


And, um...I got married

And...I need an apartment or something.
Florida is hot and shit.
Current Mood:

anxious

Current Music:

Ice Cream Truck Song
We checked a couple other places out pretty quick, but finally settled back on the Saturn dealer, and picked the car I originally drove. The payments are about $270 a month, but I didn't have to put a down-payment on it and it's only 0.9% interest. Pretty long day, but as long as I don't have too much trouble making the payments, I think it'll be a pretty good car.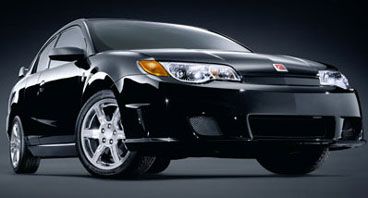 My Escort overheated a couple nights ago (probably because I hadn't checked the fluids in about a year because I only needed the car for one more month). It would have cost probably 5X what the car was worth to fix it. So I took the day off and got U Wrench It to agree to haul it away and then Dave and I went out looking for something new. We tried Saturn first. The guys at the dealership were cool and I liked the car I test-drove quite a bit. It was a 2005 Ion-2 with CD player, air conditioner and about 50 other things my Escort didn't have. Then we headed to Noland and checked out some of the dealerships there. The Chrysler guy annoyed the hell out of us for about an hour and had me drive a Neon, which made the Saturn seem like a Ferrari.
Current Mood:

stressed

Current Music:

Outkast - Valentine's Day