In other news, Dani dressed up as a pirate for Halloween. We went to Shooters, which was having a big Halloween costume block party. Other than that, didn't do a whole lot.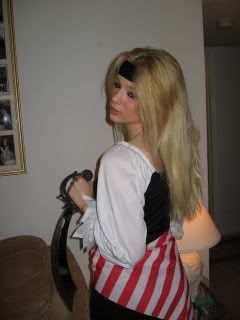 Kathi, Andrea and Jorge came over for Thanksgiving, which was cool. I made a ham for the first time, which surprisingly turned out pretty decent. We had a ton of food, which was all very good. And the Chiefs beat Denver, which put us in pretty decent shape for a playoff run (although the jackasses just lost to Cleveland. Who loses to Cleveland?).
Check out this cat: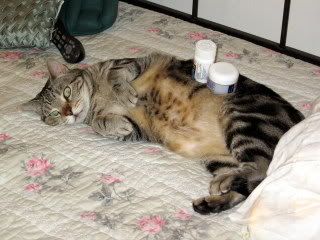 The next day, we drove up to Tallahassee, which took about 7 1/2 hours. We went over to the FSU film school to see Dave and Justin, who were doing the visual effects for Justin's latest short. We got a tour of the film school area (sound stages, etc.) and then Justin showed us the last few minutes of his film - minus most of the effects - which looked like a Hollywood movie. I can't wait to see the finished product. Afterward, we went and got some Mexican food, saw "Borat" (again) and tried to go to "Sunland" or something like that - a children's psych-ward that was shut down decades ago. Unfortunately, it was recently demolished, so we didn't get to to explore it like Justin and Dave had before. I hear it was pretty damn creepy. We did, however, sneak into the FSU football stadium and had to sneak around 007-style after realizing the door we got in through locked behind us. We eventually got out, though.
The next day, we wanted to go downtown, but the FSU-UF game was going on, so traffic was crazy. We ended up just heading back early.
This week, we've all been sick as hell. I've got finals coming up, and then our Christmas trip back to KC after that.
So I jumped the gun a little bit on the last post about the job. It actually turned out that I wasn't eligible for the position they wanted to give me because I don't have a degree. But after another month or so of screwing around, we came to a reasonable agreement, which basically means I get a raise but no benefits.
Current Mood:

sick

Current Music:

ELO - Showdown